In addition to fulfilling the Graduate Division requirements for admission, the Department of Computer Science requires a bachelor's degree in some discipline of science, engineering, or mathematics.
Please see the information below for additional points to consider as you prepare your PhD application. For questions related to the online application, don't forget to check the Frequently Asked Questions (FAQ) provided by the UCSB Graduate Division. The department receives thousands of applications every year and the review process starts very quickly after the application deadline. Therefore, all required application materials must be received by the admission deadline in order for the application to be considered complete for review.
Online Application
Applications to the UCSB Computer Science MS and PhD programs are accepted once per year. All applications should be submitted through the Graduate Division's on-line application.
If you're from an underrepresented or marginalized background in CS, take advantage of our new PhD Application Support Program, designed to guide and refine your application materials with insights from trained mentors.
Minimum Requirements for All Graduate Applications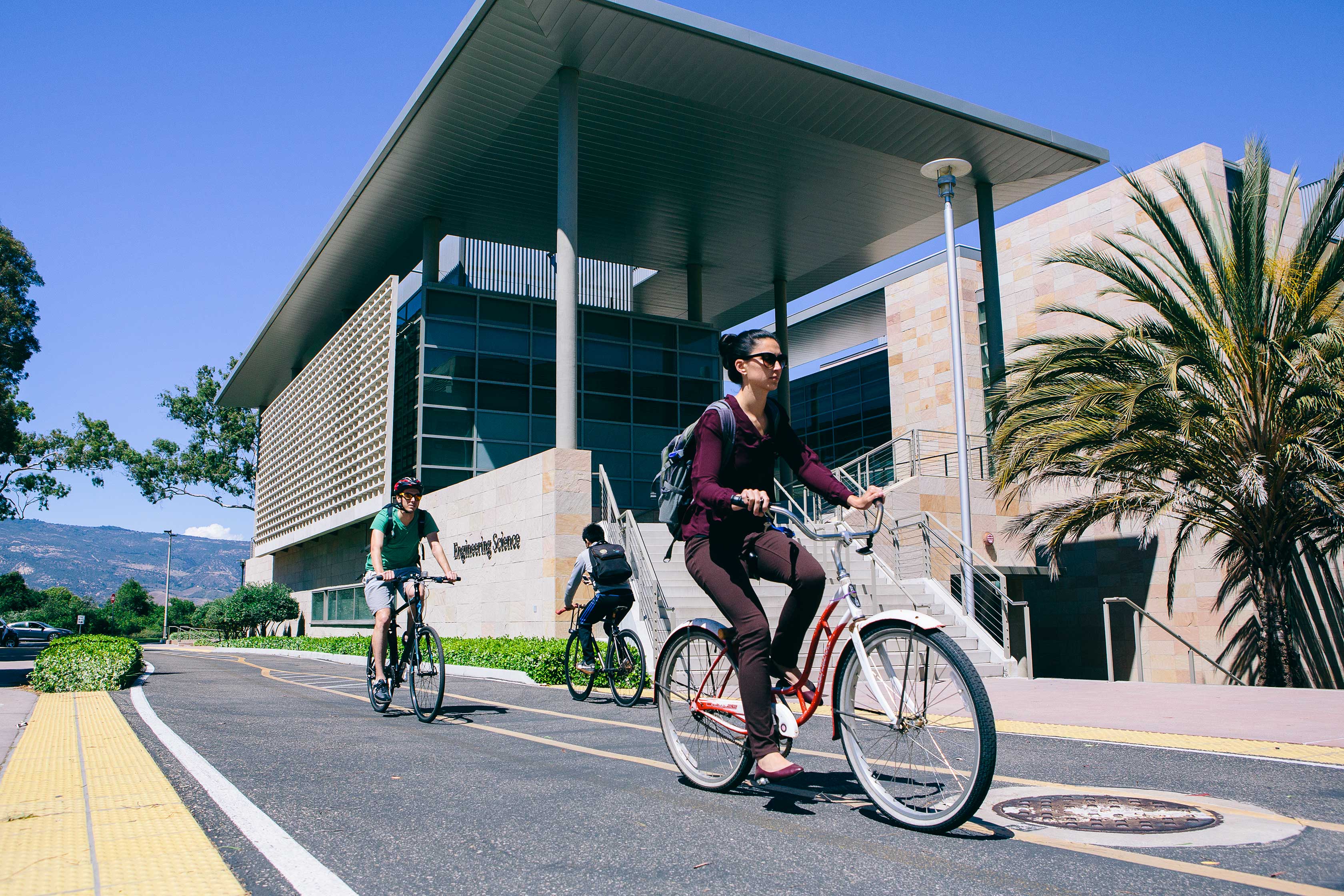 Grade-point Average
A minimum of a 3.0 cumulative GPA in undergraduate study. During the review process, we re-calculate GPAs into context on a per-school basis for institutions that do not use a 4.0 GPA scale.
Graduate Record Examination (GRE)
The department does not currently require the GRE for any applicants. Because the GRE is not a requirement, we are prohibited from reviewing test scores for all applicants. Do not attempt to upload GRE scores to your application as they will not be reviewed. Further information is listed on the Graduate Division FAQ page.
Non-native English Speakers (or ESL Students)
Applicants whose native language is not English are required to take the TOEFL or IELTS or Duolingo English Test (DET). The department requires a higher minimum score on certain tests than the University minimum score requirements; the department minimums are listed on the Graduate Division CS Department webpage.
Further information on the type of English language exams UCSB accepts is listed on the Graduate Division FAQ page and Graduate Division How to Apply page.
Exemptions from the English language exam requirement are permitted for applicants who have completed an undergraduate (bachelor's or equivalent) or graduate (master's, doctoral, or equivalent) degree at an institution where the verified sole official language of instruction is English. Further information on how exemptions are verified after the application deadline and during the review process is listed on the Graduate Division FAQ page.

Additional Information Specific to PhD Admissions
Students may apply directly to the PhD program without a Master's degree.
Applicants to the PhD program generally have a grade-point average of at least 3.5 in their undergraduate study.
Students entering this program should be committed to completing a PhD. The department discourages students petitioning to switch to the Master's program; such petitions are approved only under exceptional circumstances.
Current UCSB Graduate Students
To switch to or add a Computer Science Masters of Science (MS) degree objective, please submit the Graduate Student Petition available on the Graduate Division website and supporting materials to the Computer Science Department Staff Advisor via email by the annual December 15 deadline. Do not complete the on-line application. Petitions & materials are reviewed along with the other graduate school applications received. Our department asks that you complete 3 of our CS graduate courses before applying to our MS program. CS graduate courses may only be added through approval codes by non-CS majors.
To switch to or add a Computer Science Doctor of Philosophy (PhD) degree objective, please complete the on-line application by the annual December 15 deadline. Do not complete the Graduate Division Graduate Student Petition. Only PhD applications and materials received via the on-line application portal will be reviewed.
Financial Support
All PhD applicants are considered for campus and departmental fellowships, including but not limited to, the Doctoral Scholar Fellowship, Chancellor's Fellowship, Regents Fellowship, and the Eugene Cota Robles Fellowship.
---
Admitted PhD students are typically offered financial support consisting of student employment, based on meeting all of the necessary eligibility criteria including academic good standing and department program requirements. PhD students may be funded by a combination of Fellowship awards, Graduate Student Researcher employment positions (GSRs), and/or Teaching Assistant employment positions (TAs).
---
MS students may apply for TA positions each quarter and may be employed as GSRs upon availability with a faculty member.
Teaching Assistants (TAs)
The department accepts applications for Teaching Assistants (TAs) each quarter. The application website is available approximately 2 months prior to the start of a quarter. Priority for employment is given to first and second-year CS PhD students. TAs receive partial fee remission through their employment, along with a salary for their job duties. In addition, the department will pay Non-Resident Supplemental Tuition (NRST) for PhD students who are international students or domestic non-California resident students for the first year. Domestic PhD students MUST secure California residency prior to their second year. MS students who are TAs are responsible for paying their own NRST fees by the fee payment deadline. The department does not pay for the cost of housing or living expenses for any students.
Graduate Student Researchers (GSRs)
It is anticipated that CS PhD students will transition to Graduate Student Researcher (GSR) positions during their second year. Students are hired by their research advisors to conduct research in the lab. GSRs receive either partial or full fee remission through their employment based on the percentage of their appointment.
Fellowships
There are several fellowships for which the department annually nominates students. These fellowships include the Microsoft Research Fellowship, the Google PhD Fellowship, the IBM PhD fellowship, and a number of centrally administered university fellowships. Students interested in being considered for these awards should talk to their research advisors about a nomination. The Graduate Division offers a number of fellowships for which students may apply after their first year at UCSB. These fellowships include research fellowship awards and a dissertation year fellowship. Information about funding opportunities can be found at the Graduate Division website.