Ph.D. Student, Chad Spensky, Presents First Place Pitch for the 2019 TMP New Venture Competition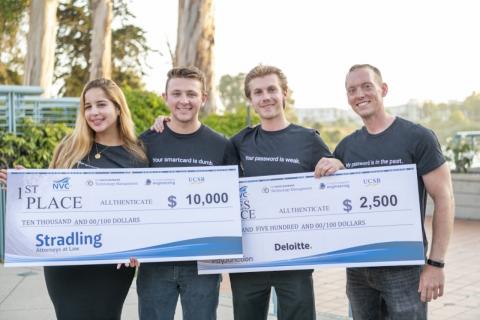 Ph.D. Student, Chad Spensky, Presents First Place Pitch for the 2019 TMP New Venture Competition
By Sandra Dieron, PR Assistant, Computer Science 
Chad Spensky, Grad Slam alum and UCSB Computer Science Department Ph.D. Student, presented the first place pitch on behalf of his team Allthenticate at the 2019 TMP New Venture Competition (NVC).
The TMP New Venture Competition (NVC) is an eight-month educational experience, with activities and curriculum spanning the entire academic year. The goal of the competition is to provide a unique opportunity for UCSB students to learn how to start a business. Local business executives and entrepreneurs, such as Yardi, PayJunction, and Appfolio, mentor the students throughout the NVC process and provide valuable contacts that enable the teams to validate their ideas and business models.
The 2019 New Venture finalists are Allthenticate, EnterVIEW, Guinea Gig, Microprint, Selva, and The Hurd Co. The first place team, Allthenticate, included Chad Spensky (Ph.D. Computer Science (Security), Evan Blasband (M.S. Electrical and Computer Engineering), Ryan Barnes (Ph.D. Chemistry), Rita Mounir, and Jake Tear (B.S. Psychology and Brain Science). Allthenticate offers an easy-to-use mobile-based authentication technology to secure businesses' physical and digital worlds, which is all managed in a cloud-based service. To find out more about the other finalists, please click here.
Chad Spensky is currently a Ph.D. student in the Security Lab (SecLab) at UCSB, and a recipient of the 2018 IBM Ph.D. fellowship. Formerly, he was a member of the technical research staff at MIT Lincoln Laboratory. He obtained a B.S. in mathematics, a B.S. in computer science, and a minor in economics from the University of Pittsburgh and an M.S. in computer security from the University of North Carolina at Chapel Hill. Spensky's research interests include: usable authentication, embedded systems security, novel introspection techniques, and smart card security.
Congratulations to Allthenticate and all of the finalists of the 2019 TMP New Venture Competition (NVC)!