Marianne Arriola, CCS Computing '23, Receives 2022 Barry Goldwater Scholarship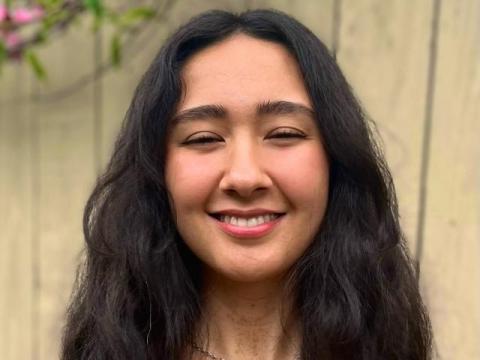 This past March, Marianne Arriola, CCS Computing '23, was awarded the highly distinguished Goldwater Scholarship for the 2022-2023 academic year. Marianne was selected as one of 417 undergraduate student recipients across the nation. This scholarship serves to support those "who intend to pursue research careers in the natural sciences, mathematics and engineering, thereby ensuring "that the U.S. is producing the number of highly-qualified professionals the Nation needs in these critical fields".
From the CCS website:
"The Goldwater scholarship reinforced my goal to obtain a PhD," said Marianne. "As a CCS student, I have worked with Professor Ambuj Singh on multiple research projects. I am currently building a generative model to detect multi-scale anomalies in dynamic networks. I came to CCS with an interest in computational biology, but through my time here I've uncovered my interest in geometric machine learning." Marianne plans to pursue a Ph.D. in Computer Science, to teach at the university level, and to conduct further research in geometric machine learning.
Read the full article here.
In addition to this award, Marianne has also done research as a part of CalTech's 2021 WAVE summer program, and was accepted to MIT's 2022 Summer Research Program.