Grad Slam: 2019 Recap & How to Get Involved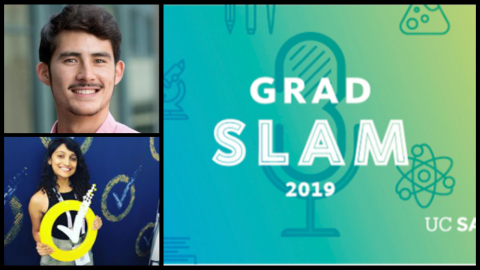 Grad Slam: 2019 Recap & How to Get Involved
By: Sandra Dieron, PR Assistant, Computer Science 
Last month, UCSB hosted Grad Slam, an award-winning campus-wide competition for the best three-minute talk by a graduate student. Students present the central points of their project in a clear, direct, and interesting manner for a diverse audience comprised of students, faculty, and community members.
There are three rounds of presentations during the competition, and prizes were handed out at the conclusion of each round. Participants are judged on the basis of having a clear and effective presentation that is geared for a general university audience and has demonstrable intellectual significance. The competition also features a People's Choice component, where audience members select their favorite presenters in each of the preliminary rounds.
This year, the Computer Science department had two graduate students participate in the competition. Chani Jindal is a M.S. student and delivered her talk titled, "Malware Detection Using Machine Learning," during the preliminary round. Daniel Means is the second graduate student who participated in Grad Slam 2019, and he is currently a researcher with CITS. Daniel gave his talk titled, "Detecting Disasters through Social Media," during the preliminary and semifinal rounds of the competition. We are so proud of their hard work and accomplishments during Grad Slam 2019!
Are you interested in participating in Grad Slam in the future? If so, you must be a graduate student currently enrolled in any of UCSB Master's or doctoral graduate programs. Participants are required to give a three-minute talk about their projects, and PowerPoint slides are optional. Talks are judged on the presenters' clarity, organization, delivery, intellectual significance, and audience engagement. Judges pick two winners from each round, and audience members are allowed to vote on a People's Choice presenter who are allowed to advance to the next round of the competition. To find out more about UCSB's Grad Slam, visit their website here.