CS Undergraduate Research Poster Session 2018-19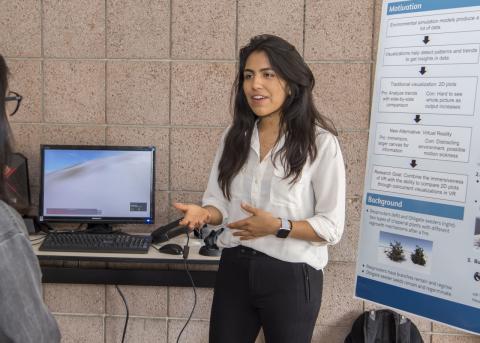 CS Undergraduate Research Poster Session 2018-19
By Sandra Dieron, PR Assistant, Computer Science
The UCSB Department of Computer Science was proud to host an Undergraduate Research  Poster Session on June 13, 2019. Seven undergraduate students who participated in the Distinction in the Major or Early Research Scholars programs presented their research to staff, faculty, fellow students, and members of the public. The research posters covered a variety of topics, ranging from hate groups to applications of virtual reality (VR) and artificial intelligence (AI). Please see the end of this article for a full list of the undergraduate participants and their mentors.
Dr. Sherwood joined the CS Department in 2003 and has worked on a broad set of research problems relating to both hardware and software. Sherwood has been the Associate Vice Chancellor for Research at UCSB since 2016 and attended the poster session.
"The CS Undergraduate Research Poster Session was a wonderful opportunity to see some of the amazing undergraduate research happening in our department," said Dr. Sherwood, "I get so excited seeing the wonderful work our students are capable of with the training and mentorship they get at UC Santa Barbara. You can't help but be excited thinking about the potential of these young engineers!"
Dr. Sherwood is optimistic when it comes to the significance of the undergraduate research presented at the poster session: "Their work challenges our preconceived notion of everything from how we interact with one another through computers, how computing can be applied to solve critical problems, to what the very nature of a computer is."
Congratulations to all of the undergraduate students who presented their research at our Poster Session this past June and their mentors! The quality of work produced in our department is unmatched, and we are excited about what's to come.
Presentations
Hate Guerilla: A Study of Evolving Hate Group Dynamics using Online Linguistics
Barbara Korycki, fourth year, adviser: Elizabeth Belding
Model Counting Constraint Solver as an Online Service
Myles Adams, fourth year, adviser: Tevfik Bultan  
Creating Customizable Texturized VR Environments from Real World Images
Kaushik Mahorker, fourth year, adviser: Tobias Hollerer
Can AI Unveil Large Scale Collective Behavior? A Case study on the Reddit r/Place Experiment
Meredith Xu and Daniel Shu, third-year students, adviser: Ambuj Singh
Visualizing Environmental Data in Virtual Reality
April Sanchez, Cynthia Wang, Nathan Wu, Bella Yue, second-year students, adviser: Tobias Hollerer
Object-Oriented Design Patterns for ML Accelerators
Dawit Aboye, Dylan Kupsh, Maggie Lim, Jacqueline Mai, second-year students, adviser: Tim Sherwood
Debiasing Gender in NLP
Andrew Gaut, Yuxin Huang, Tony Sun, Shirlyn Tang, second-year students, adviser: William Wang