CS Dept. Honors Alumni Awardees at 2023 Award Ceremony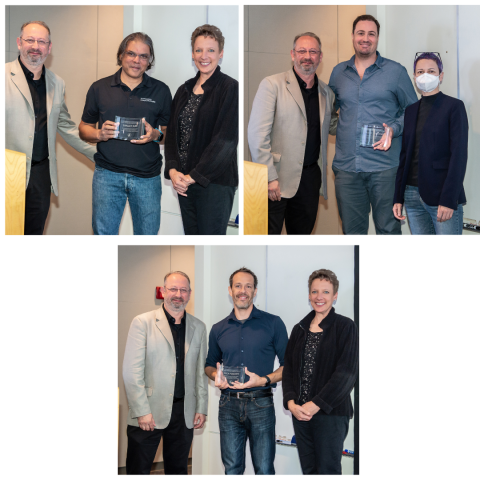 Congratulations to our Alumni Awardees, who were honored for their accomplishments at the 2023 Award Ceremony.
Computer Science Distinguished MS Alumnus Award
Sanjay Suri
Internet entrepreneur and former CTO of Nykaa
Sanjay is an Internet Entrepreneur based in New Delhi. As the CTO, he was instrumental in shaping the success of Nykaa, from an early stage e-commerce beauty startup to multiple-billion dollar listed company in a span of 6yrs.
He earned his bachelor's degree in Mathematics and Masters degree in Computer Science in India before coming to UCSB, where he graduated with a MS in Computer Science.
Over his career of 25 years he has worked both in the US and India across large technology giants - Oracle Corp and Amazon - and multiple startups. He has spent more than half his professional life in startups and he attributes his affinity to startup life to his spirit of Adventure.
He is an avid trail runner, triathlete and spends a substantial time trekking and bike packing.
Computer Science Distinguished Undergraduate Alumnus Award
Michael Rosengarten
Founder and CEO, Camino Technologies
During his time at UCSB, Michael served in a number of service roles in our community, including as President of UCSB's ACM Chapter. Since graduating from UCSB CS in 2010, Michael first worked at Yahoo, before becoming a Co-Founder and CTO at OpenGov. Until its acquisition in early June of this year, he served as Founder and CEO of Camino Technologies.
Camino's mission is "Economic development is critical to creating safe and vibrant communities. That's why we're building the next generation of technology to power the permitting process: beautiful, intuitive, and intelligent software that cuts down growing workloads while seamlessly connecting citizens with their governments."
Computer Science Distinguished PhD Alumnus Award
Dr. Luca Foschini
President & CEO of Sage Bionetworks
Dr. Luca Foschini is president and CEO of Sage Bionetworks. Prior to this, he co-founded and served as Chief Data Scientist at Evidation for 10 years. Dr. Foschini has focused on digital medicine, particularly in the areas of data collection and analysis methodology. He has co-authored more than 70 peer-reviewed articles and given talks on topics including machine learning in healthcare, continuous health monitoring, and privacy in high-dimensional data.
Dr. Foschini holds a PhD in Computer Science from UCSB and a Master's degree in Computer Engineering from the Sant'Anna School of Pisa. He has also conducted theoretical computer science and cybersecurity research in academia and industry, including research positions at Google and Ask.com.