UCSB CS Students Among National Outstanding Undergrad Researchers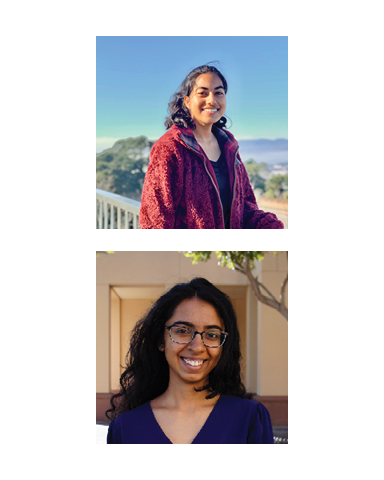 By Saehee Jong, Communications & Special Events Assistant, and Professor William Wang
UCSB CS students have been recognized as some of the top undergraduate researchers in the nation by the Computing Research Association (CRA). Founded more than 50 years ago, CRA's membership includes more than 200 North American departments of computer science engineering. The NLP Group researchers Aesha Parekh was named the 2022 CRA's Outstanding Researchers Award Finalist (Top-10 Nationally) and Samhita Honnavalli was named Honorable Mention.
Aesha and Samhita came to the NLP Group through Professor Diba Mirza's Early Research Scholars Program. Under the guidance of Professor William Wang, Professor Diba Mirza, and Graduate Student Mentor Sharon Levy, both Aesha and Samhita were involved in three projects: They first studied word order typology, morphological typology, and comparative linguistics in modern deep learning-based multilingual Transformer text classification models. In their research project, they were able to publish their research on analyzing the performance of African American English in GPT-2, a commonly used language model. Currently, Aesha, Samhita, along with team members Lily Ou and Sophie Groenwold, are collaborating with a Rice University Professor on researching gender and seniority compound bias in language.
Congratulations Aesha and Samhita! The Department of Computer Science is delighted to see our own students selected for this remarkable achievement!