Prof. William Wang briefs legislators on AI at the State Capitol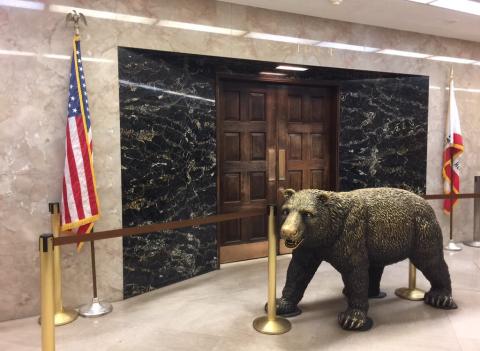 Together with UC Berkeley's Vice Chancellor of Research and EECS Prof. Randy Katz, UC Santa Barbara Computer Science Prof. William Wang gave a presentation on the Past, Present, and Future of Artificial Intelligence in the Governor's room at the California State Capitol on Wednesday 06/20, 2018. This is a part of the bigger effort of UC Legislative Roundtable chaired by Senator Hannah-Beth Jackson. 
Senator Jackson gave the opening remarks, and introduced the guest speakers. In the first part of the presentation, Prof. Wang gave an overall description of the history of AI, with the focus on the current advancement of AI in the areas of Natural Language Processing, Computer Vision, and Machine Learning. Prof. Katz further illustrated the technical challenges that we are facing in AI, as well as the legal and social implications of the technology advancement. Prof. Wang closes the presentation by introducing UCSB's latest research studies on combating fake news and fighting online abuse.
In its 5th year, the UC Legislative Roundtable is comprised of members of the State Senate and Assembly who have UC campuses or medical centers in their districts. The bi-cameral and bipartisan Roundtable is intended to provide a forum for legislators to hear directly from University officials about prevailing policy and fiscal issues of shared importance to the State and the UC.