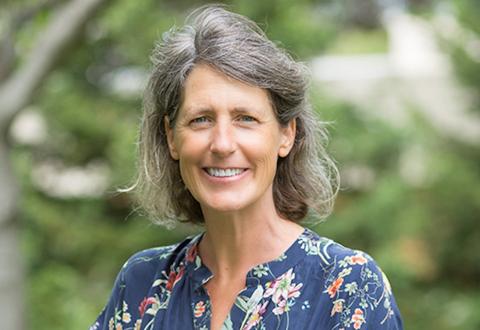 Q & A WITH NEW COE FACULTY: ZOË WOOD
By Andrew Masuda, COE Director, Marketing & Communications
UC Santa Barbara's College of Engineering has welcomed seven new faculty throughout the 2020-21 academic year, including Zoë Wood, who has joined the Computer Science Department as a lecturer and teaching professor. Wood received bachelor's degrees in computer science, women's studies, and American studies from UC Santa Cruz, and completed her PhD in computer science at the California Institute of Technology. Prior to UCSB, she taught in the Computer Science Department at Cal Poly, San Luis Obispo.
Recently, we asked Wood some questions to learn more about her, and here is what she had to say.
Q: What is the focus of your research?
A: The focus of my research is computer science education for all and creative expression using code (computer graphics).
Q: How did you get interested in these specific fields of research?
A: I love visual art, math and puzzles, all of these come together in the creative and technical field of computer science and computer graphics. I love programming, because you can quickly create prototype solutions and explore ideas. In my career in computing, I have strived to share these passions with students, but unfortunately, computing can be an unfriendly and competitive field, which directly affects students' sense of belonging, especially traditionally underserved populations in STEM. I dream of and work for an inclusive future where a more representational student population will be a part of developing the technologies that we all use.
Q: What are the real-world implications of your research?
A: As a computer scientist, I have had opportunities to work with all kinds of people including a marine archeologist on finding shipwrecks, anthropologists on studying the way humans move across terrains, artists on digital creations, and K-12 educators on creative computing. Computer science is applicable to so many domains that impact our lives. My work is focused on working to make computing accessible and equitable. Now, more than ever, we need to support equitable pathways and curriculum in computing to help anyone who wants to learn to program and build software to join us working on some of the challenges we have facing our world.
Q: How excited are you to join your department?
A: I am very excited to be joining the department, everyone has been so encouraging, welcoming and kind.
Q: What were some of the reasons why you wanted to work at UCSB?
A: I was born and raised in Santa Barbara, so being a part of the UCSB faculty provides me the opportunity to engage with my home town in a whole new way.
Q: You came to UCSB from Cal Poly, San Luis Obispo. How long did you work there and in what capacity?
A: I was a faculty member (professor) at Cal Poly for 17 years. The UCSB Computer Science Department is a great community and has been very welcoming. In particular, they have expressed a commitment to working on inclusivity and diversity ,and I look forward to being a part of their work in those areas.
Q: What awards or honors have you received over the years?
A: I have received the Cal Poly College of Engineering Diversity and Inclusivity Award (2020), the NCWIT Undergraduate Research Mentoring Award (2018), the Cal Poly Distinguished Scholar Award (2018), the CSU Faculty Leadership and Innovation Award (2018), the EngageCSEdu Engagement Excellence Award (2018), the Cal Poly College of Engineering Outstanding Club Advisor Award (2014-2015), and the Computer Science Professor of the Year Award (2003-2004, 2012-2013, 2014-2015, and 2019-20).
Q: While at Cal Poly, you received some major awards in recognition of your work to address equity gaps in the science, technology, engineering, arts, and mathematics (STEAM) fields. What inspires and motivates you to make STEM more engaging and accessible to everyone? 
A: Part of my motivation comes from my passion for technology. I see how technology shapes our lives and society, and I deeply believe (and evidence shows) that we build better technology when diverse voices help shape the design, implementation, and testing of software. I love seeing what my students create, and I want a diverse set of voices to participate in creating future technologies.
I distinctly remember a pivotal moment in one of my first internships at a big tech research lab during graduate school. I had been invited to sit in on a meeting about an open architecture software tool used widely in the industry. It was a great opportunity, but I looked up and realized I was the only female in the room (and I was sitting on the sidelines listening) and there was very little racial diversity. They were all thoughtful people, but they were making decisions that had consequences for so many users of downstream technology. Most of the time researchers and software engineers genuinely try to make thoughtful choices about technology, but I just like to imagine what might an ATM interface look like if my grandmother had designed it.
Q: You also made headlines for taking a group of students to Malta, an island country near Italy, and found a lost British bi-plane that went down in the Mediterranean Sea during World War II. How did this opportunity come about, and how did you and your students find it?
A: I had the amazing opportunity to work for seven years with a great colleague in robotics at Harvey Mudd, Dr. Christopher Clark, and an amazing marine archaeology professor at University of Malta, Dr. Timmy Gambin. Together, we ran an international research project for Cal Poly and Harvey Mudd students funded via the National Science Foundation's International Research Experiences for Students (IRES) program. For the last three years of the program, we worked on algorithms to detect and map underwater shipwrecks, and it was during some underwater survey work that we detected the wreck of the Fairey Swordfish, a torpedo bomber from the 1930s. Seeing the students' faces as the sonar data was downloaded and appeared on screen and we could clearly see the outlines of airplane wings was definitely a highpoint of my advising career. Overall, it was an amazing collaboration with fantastic colleagues that provided engineering students with a chance to participate in field work in an international setting.
Q: Tell us something interesting about yourself unrelated to work and research.
A: I have two sons, both in local public Santa Barbara schools, and we enjoy playing video games together, especially "Zelda: Breath of the Wild," and my husband works as the principal of a local charter school. We enjoy hiking in the Santa Barbara mountains and along our coast and are avid travelers, having traveled to more than fifteen countries around the world. We are also all open-water divers and love the underwater world.