UCSB's Logic Wardens takes second place at 2023 CSAW Logic Locking competition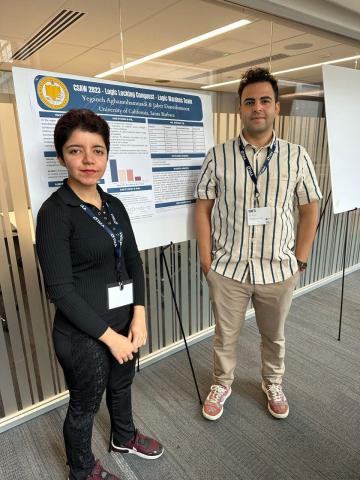 Congratulations to UCSB's Logic Wardens team for taking second place in the CSAW'23 Logic Locking Competition at NYU!
Now in its twentieth year, CSAW is a comprehensive student-run cybersecurity event, attracting participants from around the globe for competitions such as Capture the Flag, AI Hardware Attack, Applied Research, and Hack My Robot. In the Logic Locking competition, participants attempted to attack Logic Locking designs intended to protect the intellectual property of integrated circuits.
For this year's competition, UCSB's Logic Wardens team consisted of computer science Ph.D. students Yeganeh Aghamohammadi and Jaber Daneshamooz. Aghamohammadi is a member of the ARCH Lab. She is advised by Jonathan Balkind, and her research focuses on open source hardware. Daneshamooz is part of the Systems and Networking Lab, where he is advised by Arpit Gupta. His research is in machine learning and networking.
"We are honored to have secured second place in CSAW 2023 Logic Locking Competition, a testament to the dedication and skill of our team," says Aghamohammadi. "Competing in the finals not only pushed us to our limits but showcased the depth of talent fostered by the UCSB Computer Science Department."
Adds Daneshamooz: "It was my first time participating in CSAW and I'm interested in participating in next year's competition. The CS department at UCSB gave me excellent chances to learn and connect with amazing, smart people … a special thanks to my advisor who supported me and guided me when I really needed it on my journey."
Thanks go out to CSAW and NYU for organizing this challenging event that pushes the boundaries of logic design and security. UCSB students continue to excel in these cutting-edge competitions, and look forward to more opportunities to showcase their skills and contribute to the always evolving field of cybersecurity.