summit.cs 2021 (virtual edition)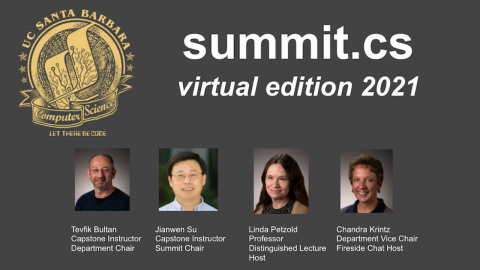 2021 summit.cs - Virtual Edition
By Natalia Diaz Amabilis, PR Assistant
The 2021 CS Summit event was hosted virtually by UCSB's Department of Computer Science on Friday, March 12, 2021. This was the very first virtual CS Summit and it was a huge success due to the efforts of various faculty and staff members of the Department.

This year featured ten undergraduate CS Capstone teams who presented their final presentations and demos. The undergraduate student teams partnered with industry leaders in the pursuit of developing innovative solutions to real industry problems. This year's first-place team partnered with ALPRO to create an Alcon/TrueVision Robot controller for eye surgery. The second-place team partnered with SALT to create Teladoc Health Automated support for telemedicine consultations. The third-place team partnered with BINARY BROS to create Novacoast Phishing attack prevention. 
The Capstone Judges Panel was made up of three distinguished UCSB alumni: Chuck Goetschel (CS '89), David Henke (Math '78), and Tony Tam (ME '95). The Department of Computer Science is thankful for their donation of time and dedication to the event. Judge Tony Tam mentioned that all of the "students did a fantastic job", making the selection of the top three teams very difficult. It is safe to say that each team walked away with a huge accomplishment.
This year's event featured keynote speaker Dr. Valerie Taylor, who delivered insightful talks that helped "inform our efforts to increase diversity in CS at UCSB", said Professor Linda Petzold. Dr. Valerie Taylor has "undertaken substantial efforts to increase diversity in Computer Science" and our Department is grateful for her dedication and willingness to share her experience at our Summit. She attended Purdue University where she received her B.S. degree in computer and electrical engineering and her M.S. degree in electrical engineering. She continued her education at the University of California at Berkeley where she received her Ph.D. degree in electrical engineering and computer science. Her research interests lie in high performance computing.
"Dr. Valerie Taylor was the perfect keynote for our CS.summit — our celebration of computing at UCSB.  Her talk was full of great ideas that we can use and build upon to continuously improve the diversity, equity, and inclusivity of our department and program.  Her enthusiasm was infectious!" - Professor Chandra Krintz 
The Department of Computer Science is hopeful that we can return to in-person events next year, but is thankful to have such a supportive team to have made such a successful event happen virtually. Thank you to our judges, keynote speaker, sponsors and industry leaders who helped make this event possible! The recorded CS Summit videos can be found here and here.