Featured in Santa Barbara News-Press: Determined to succeed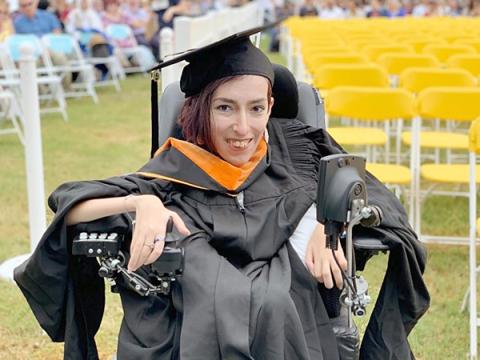 This article was originally published by Katherine Zehnder with the Santa Barbara News-Press.
UCSB student achieves her dreams despite spinal muscular atrophy
View the complete news release here.
(Santa Barbara, Calif.) – Atieh Taheri proved her doctors wrong.
When she was 18 months old, she was diagnosed with spinal muscular atrophy. But Ms. Taheri not only has lived much longer than her physicians expected, she is a doctoral student studying computer engineering at UCSB.
And now she's using her studies to help others with SMA or similar diseases to integrate smoothly into society.
Ms. Taheri's current research as a UCSB doctoral student is broadly focused on how to help people with SMA or similar diseases smoothly integrate into society.
"I wanted to use my research knowledge to help people like me," she said. "An idea came to my mind. When I was 15, I really enjoyed playing video games, but I eventually lost my ability to hold a game controller. I couldn't play games anymore, which I really liked. I loved it. I wanted to find a way for myself and people in my situation to be able to play games and do things that I couldn't do anymore."
The answer came to her.
"Why not use facial expressions to control something like a video game controller?" asked. Ms. Taheri.
According to her website, "my research seeks to develop better ways for computer interaction to increase computer accessibility; specifically by learning more about experiences that people with motor impairments have, to identify their strengths and limitations, and to explore innovative techniques to enhance their quality of life and to broaden inclusion."