End-of-the-year Awards for CS Department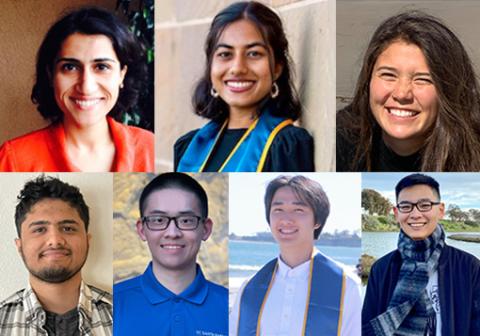 By UCSB College of Engineering
There will be plenty to celebrate when UC Santa Barbara's College of Engineering hosts its first
in-person Commencement on Saturday, June 11 from 3-4 p.m. on Commencement Green.
During the 2021-'22 academic year, 402 engineering bachelor's degrees have been awarded,
including 145 degrees in computer science.

Read about some of the end-of-the-year awards given to and awarded by graduating seniors
from the Computer Science Department.

Chancellor's Award for Excellence in Undergraduate Research
The UC Santa Barbara Academic Senate has selected Aesha Parekh, a computer science
major, to receive a 2022 Chancellor's Award for Excellence in Undergraduate Research, a
handful of which are bestowed upon students who have distinguished themselves as
researchers. Recipients are selected based on the quality of their work, as substantiated by the
nomination and support letters submitted on their behalf.

"It is an immense honor to receive this award and see our research being recognized," said
Parekh, who is graduating with high honors and a 3.99 cumulative grade point average. "I'd also
like to acknowledge my co-first-authors — Sophie Groenwold, Samhita Honnavalli, and Lily
Ou — who played an instrumental role in our research as we collaborated closely."

Parekh became involved in undergraduate research through the Computer Science
Department's Early Research Scholars Program (ERSP). Overseen by Diba Mirza, an
associate teaching professor, the year-long research apprenticeship program provides
undergraduate students with their first research experience. Parekh, Groenwold, Honnavalli,
and Ou were part of the team that worked with computer science associate professor William
Wang, co-director of the university's National Language Processing (NLP) Group. They
analyzed how gender and seniority bias were manifested in text generated by natural language
models, and they designed experiments to quantify bias against African-American English in
Generative Pretrained Transformer 2 (GPT-2), a popular language model used for text
generation and language translation. A paper, written by the team, was accepted to the 2020
Conference on Empirical Methods in Natural Language Processing, one of the top three NLP
conferences, where they later presented their work and generated interest from other
researchers.

"When we started, the fields of NLP and machine learning were entirely unfamiliar to us,"
Parekh explained. "We ramped up on the area and learned to read research papers, explore
research questions, design and conduct experiments, and compose quality papers to submit to
selective NLP conferences."

The team later took on another challenge, studying why women were often perceived as junior
to their male counterparts, even when they had the same job titles. They investigated how
seniority impacted the degree of gender bias exhibited in pretrained neural-generation models
by introducing a novel framework for probing compound bias. Their work was accepted by the
International Conference on Language Resources and Evaluation, another top NLP conference
to be held this summer in France, where they will present their research.

Parekh thanked professors Wang and Mirza, as well as her graduate mentor, Sharon Levy, for
their guidance and mentorship.
"They were so patient and supportive, especially during the early days of research when
everything was unfamiliar," said Parekh. "They helped us navigate the challenges that came
with a first-time research experience, whether that was learning to curate related work, writing a
rebuttal to a reviewer, designing experiments, fine-tuning models, or figuring which significant
test to use."

Earlier this year, Parekh was named a 2022 Outstanding Researchers Award finalist by the
Computing Research Association (CRA), distinguishing her among the top ten undergraduate
researchers in the nation. The CRA's membership includes more than two hundred computer
science and computer engineering departments in the United States. In addition to her
extensive research, Parekh also completed internships at Nvidia, LinkedIn, Shopify, and the
Lawrence Livermore National Lab.

Parekh will begin working as a software engineer at LinkedIn in the Bay Area this fall.

Outstanding Senior Awards
Five graduating seniors, Siddharth Deshpande, Alex Mei, Chaofan Shou, Eric
Yuan, and Henry Zhang, have been named the 2022 Outstanding Seniors of the Computer
Science Department. The College of Engineering presents the award annually to the graduating
senior with the highest cumulative grade point average (GPA) in the degree program. All five of
this year's recipients are graduating with highest honors and entered the spring quarter with 4.0
cumulative GPAs.

Born and raised in Nanjing, China, Eric Yuan, came to the United States three years ago to
attend UCSB. Despite knowing very little English at the time, Yuan embraced the chance to
earn a computer science degree from one of the best engineering colleges in the nation.

"I'm grateful for the opportunity to study with cutting-edge researchers and excellent peers," said
Yuan, who spent two years working as a resident assistant. "This was my first time in America,
and I was afraid to communicate with people in the beginning. However, the diverse and
welcoming environment within the College of Engineering helped me step out of my comfort
zone, speak up, gain confidence, and succeed."

Yuan was part of a capstone team that built a web application to serve as a one-stop shop for
prospective property renters; the senior project was aimed at helping solve the local housing
shortage. The project provided a real-world experience with modern deep learning methods and
web app development, and taught him how to work on a team and develop soft skills like public
speaking. After earning a bachelor's degree in three years, he plans to work for one year before
attending graduate school.

Henry Zhang opted to take a heavier course load than normal during the pandemic after he
realized that many of the computer sciences translated well to an online environment. The
decision allowed him to take fewer classes during his senior year and participate in
extracurricular clubs, like the Kendo Club and the Jasmine Echo Chinese Orchestra. The Santa
Clara native described earning a computer science degree and recognition as an outstanding
senior as great accomplishments.

"Receiving this award is a testament to the effort that I have put into my college studies and the
challenges that I have overcome," said Zhang. "The honor encourages me to continue asking
questions and pushing myself, and, hopefully one day, I can create new knowledge from what is
already out there."
Zhang will return to campus in the fall to pursue his master's degree through the department's
BS/MS program. He thanked Ziad Matni, a lecturer in the Computer Science Department, for
helping him through the process of deciding whether or not to attend graduate school or work in
industry.

A major turning point in Alex Mei's UCSB experience came when, as a second-year student, he
participated in the Early Research Scholars Program (ERSP), a year-long research
apprenticeship program designed to support students in their first research experience. Through
the program, he conducted undergraduate research for the Natural Language Process (NLP)
Group, working on responsible machine learning (ML), with a focus on transparency and text
safety. Mei first-authored an academic paper that was published and others that are currently
under review. He also landed internships with Amazon Web Services, Benchling, Two Sigma,
and Procore Technologies.

"My research contributions played a big role in landing the opportunities that I have today, and I
am extremely grateful to see the success of my hard work," said Mei, who was also an active
member of the Robotics Club and co-founded the UCSB Division of CodePath. "I would like to
also express my deepest gratitude to Professor Diba Mirza, whose passion for computer
science is infectious. And it cannot be understated how her contributions to the department
through the ERSP and the Undergraduate Learning Assistance Program have improved the
quality of our department."

Mei plans to pursue full-time opportunities in industry relating to quantitative research, ML, NLP,
or data science.

At just twenty years of age, Siddarth Deshpande is graduating with highest honors and
bachelor's degrees in computer science and applied mathematics. He completed the degrees in
just three years.

"It means a lot for me to earn this award," said Deshpande, who came to the United Sates
during his sophomore year of high school. "I had a late start compared to my peers, which
prevented me from reaching my full potential during high school. Seeing myself get this award in
college means a lot to me, because I've proved to myself that I can do anything if I try."
Deshpande says that he is grateful to his COE professor for not only teaching him about the
course topic, but also various approaches to solving problems. He thanked computer science
professor Rich Wolski for teaching him to look at the big picture and electrical and computer
engineering professor Pradeep Sen for helping him learn what it means to preserve and take
ownership of his projects. He believes that several of his classes will be applicable to his full-
time job.

"In particular, Computer Science 156, led by Professor Phill Conrad, was
the most impactful when it came to teaching me about real-world work experience," said
Deshpande, who plans to work in industry before applying for graduate school. "Other
conceptual classes have also prepared me very well to further my education with a master's
degree and, perhaps, a PhD."

Chaofan Shou gained experience in industry and undergraduate research while at UCSB,
focusing on modern application security and program analysis. While working for Tevfik
Bultan, a computer science professor and department chair, he was part of a team that
uncovered two network side-channel vulnerabilities that led to the leakage of users' medical
data and credentials. He co-authored multiple published papers on their findings. Shou also
worked for computer science assistant professor Arpit Gupta, exploring blockchain, big data
analysis, and machine learning. He thanked both professor for their guidance and mentorship.

"Without Professor Bultan's guidance, I would not have been able to complete any research
project. He also made me interested in software engineering, pushing me to pursue a PhD,"
said Shou. "Professor Gupta's class made me interested in networking. Under his advisement, I
contributed to multiple impactful projects, and I finalized my decision to go to graduate school to
explore the missing link between networking, verification, and distributed systems."

Since completing his degree in fall 2021, Shou entered the work force as a software engineer at
Salesforce. He will start a new position this summer as a researcher and security engineering at
Veridise, a local start-up company that focuses on blockchain security. In the fall, he will begin
pursuing his PhD at UC Berkeley.

Outstanding Faculty Award
Graduating seniors selected Diba Mirza, an associate teaching professor, to receive the 2021-
22 Computer Science Department's Outstanding Faculty of the Year Award. This marked the
third time in the past four years that Mirza has received the commendation.
"I am greatly honored and moved by the show of appreciation from the graduating seniors," said
Mirza. "Most of my interactions with them were early on, when they were in their first and
second years. So, seeing that they value my teaching at the time of graduation means the world
to me."

The early interaction that Mirza mentioned referred to the Early Research Scholars Program
(ERSP), a year-long research apprenticeship program that she started at UCSB in 2018 to help
first- and second-year undergraduates, especially women and underrepresented students, gain
foundational knowledge and skills for research. Students work directly with computer science
faculty on a project that ties into the professor's research area. The National Center for Women
Information Technology recognized Mirza in 2021, selecting her with the Mentoring Award for
Undergraduate Research.

Mirza said that during the pandemic, she created more opportunities for interaction to give
students a sense of belonging to a community, even when they were physically apart. She held
more office hours and invited some of her teaching assistants and undergraduate learning
assistants to be present to increase their accessibility to students.

"When I think of the Class of 2022, I think of resilience, camaraderie, and strength of character,"
said Mirza, who previously received a Distinguished Teaching Award from UCSB's Academic
Senate. "I hope that they are all confident about the strong foundation and values that they have
developed at UCSB and use them to springboard into a bright and successful future."

Outstanding Teaching Assistant Award
Graduating seniors in the Computer Science Department selected Sierra Wang as their 2022
Outstanding Teaching Assistant. The second-year master's student served as a TA for three
quarter for CS 170, an undergraduate course on operating systems.
"I feel very grateful and excited to receive this award because I really enjoy teaching," said
Wang, who received her bachelor's degree in computer science from the University of
Washington. "I try to be as available to the students as possible and make sure they understand
what we are working on. I also try to get them excited about the material and give them tools to
make their work more enjoyable."

Wang is co-advised by computer science professors Chandra Krintz and Rich Wolski. Her
work in the lab for Research on Adaptive Computing Environments (RACELab) focuses on
developing an operating system for the internet of things (IoT), which is a system of interrelated
computing devices and technologies that connect and exchange data with other devices and
systems over the internet. After completing her master's degree, Wang will pursue a PhD in
computer science at Stanford University, where she will have more opportunities to work with
undergraduates.

"This award certainly reinforces my love of teaching, which I strongly hope will be a part of my career," she said.