Congratulations CS Alumnus Awardees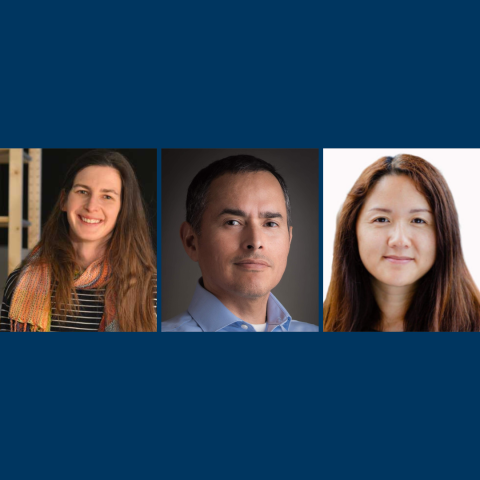 This past Friday, June 10th, the Computer Science Department awarded an Undergraduate Alumnus, MS Alumnus, and PhD Alumnus for their significant contributions to their research fields, respective industry, and communities since graduating from UCSB. Read on to learn more about the awardees and their life's work thus far.
CS Distinguished Undergraduate Alumnus Award
Laura Devendorf - Assistant Professor at the University of Colorado, Boulder
Laura got her BA in Studio Art in 2006 and BS in Computer Science in 2011. She is currently an Assistant Professor at the University of Colorado, Boulder, where she directs the Unstable Design Lab.
Laura is an artist and technologist working in human-computer interaction and design research. Her recent work focuses on smart textiles—a project that interweaves the production of computational design tools with cultural reflections on gendered forms of labor and visions for how wearable technology could shape how we perceive lived environments.
Laura received her PhD in Information Science from UC Berkeley. Her work has received an NSF CAREER award and numerous best paper awards, and has been featured on NPR.
Computer Science Distinguished MS Alumnus Award
George Runcie - Engineering Manager at Nvidia
George Runcie is an Engineering Manager at Nvidia. He currently manages security projects and large infrastructure cloud technologies. Prior to joining Nvidia, George has held multiple roles from Principal engineer to VP of Engineering. In these roles, George has led multiple software projects and authored multiple patents. George earned both a B.A. and M.S. in Computer Science from UCSB. He's also completed the Engineering Leadership Professional Program (ELPP) at UC Berkeley.
Computer Science Distinguished PhD Alumnus Award
Lin Qiao - Engineering Director at Meta
Lin is Senior Director of Engineering leading the development of PyTorch, AI compilers, and on-device AI platforms at Facebook. She drove AI research to production innovations across hardware acceleration, enabling model exploration and model scale, building production ecosystems and platforms for on-device and privacy-preserving AI. She received a Ph.D. in computer science from UCSB in 2006 and started her career as a researcher in Almaden Research Lab, and later moved to the industry as an engineer. Prior to Facebook, she worked on a broad range of distributed and data processing domains, from high-performance columnar databases, OLTP systems, streaming processing systems, data warehouse systems, and logging and metrics platforms.